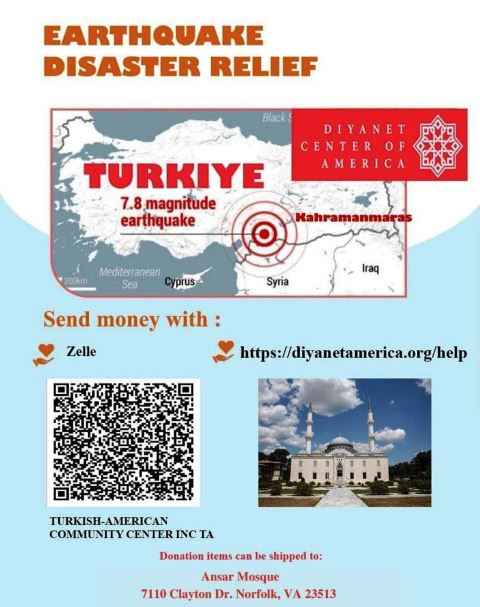 Essalam Alaykum,
The Crescent community center will be a collection point for the donations to the Earthquake Victims in Turkey and Syria. Please bring the items inside and leave them by the Office.
The following list of items are preferred along with monetary donation. Jazakum Allah Kheiran.
Winter clothes for adults and children.
Overcoat-coat
Raincoat
Boots
Sweaters
Trousers
Gloves
Scarfs
Beanies
Socks
Underwear
Other Equipment/Essentials.
Tents
Beds
Mattresses (For tents)
Blankets
Sleeping bags
Gas catalytic stove, heater
Thermos bottle
Flashlight
Powerbank
Generator
Canned food
Baby formula
Diapers
Hygiene products
Women Hygiene products
Over the counter medication for flu, cold and painkillers
You may also make a monetary donation: (Use this link below).
https://diyanetamerica.org/events/help/
This is the "Zelle" account for donations: (Use this address below).