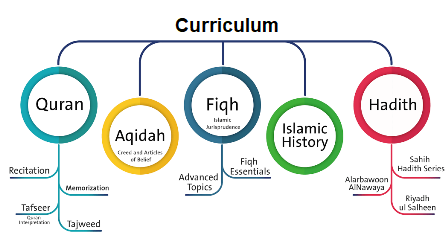 In Qur'an studies, the children learn the meaning of the short chapters in the Qur'an and how to memorize them.
In Islamic Studies, the children learn about the belief in Allah, Prophet Muhammad as the Messenger, the stories of the Prophets, and the importance of having good moral character.
In Arabic, the children learn how to identify and write the Arabic letters. Teachers encourage students to expand their learning horizons through exploration by incorporating the worldview of Islam into each field whether through the introduction of the great Muslim figures in the sciences or through the Quranic perspective on nature and humankind.
The primary objective is the development of life-long independent study habits. This enables children to get the best out of their in-class experience, and to learn independently of their teacher.
Students are taught that religion is a healthy part of their education and life by developing a love of God and who they are as Muslims.
Students also perform the daily afternoon (dhur) prayer. Our Quran, Arabic, and Islamic studies classes allow students to learn selected verses of the Quran, Hadeeth, the story of the prophet Muhammed (PBUH), stories of other prophets, the pillars of Islam, and Islamic knowledge.