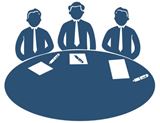 Functions:
The board acts as guardian of the Masjid properties or any other business ventures, and all funds of the Masjid.
Review and approve or disapprove any transaction or real estate including selling, buying, financing and construction.
Shall frequently audit the treasurer's record and any other documents, authorized corrections and ask for remedial actions.
Approve all transitions involving matters of the Masjid.
Make such rules, policies and bylaws as may be necessary for the effective operation of the Masjid and the preservation of its property.
Establish standing, advisory and sub-committees.
Plan long term progress for the Masjid and the members (community).
HAIDER SYED – PRESIDENT
IBRAHIM ELFAHAM – VICE PRESIDENT
RAMZY MOUSTAFA – SECRETARY & IT
MOHAMMED FAYED – TREASURER
ABDUL QADIR HARB & ASSEM AMIN – SUPPORTIVE MEMBERS WITH MANAGEMENT, FINANCIAL AND FUNDRAISING
RACHID KHOULD (IMAM)  – SPIRITUAL AND RELIGIOUS LEADER
VACANT (SISTER) – SISTERS REPRESENTATIVE